Planning Applications
If you wish to comment on a planning application see Comments and Objections below.
Finding current Medbourne planning applications
To find the planning applications specific to Medbourne consult the Harborough Online Planning Applications page.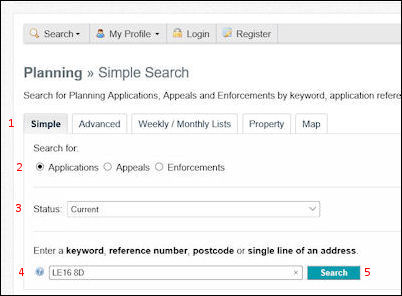 On the Harborough Planning page:
Use the tab marked Simple.
The Applications button will be pre-selected.
Select Current from the choices in Status.
Type LE16 8D into the Search box.
Press the Search button.
This search will return Medbourne planning applications but it will also return some from outside the village, e.g. Horninghold and Blaston.
A typical search looks like the screen shot below; this shows the individual planning applications. You can also use the link Show results on a large map. This will show all the properties with planning applications outlined in red (see last screenshot). The map can be zoomed; click on any of the highlighted properties to bring up the planning documentation specific to that request.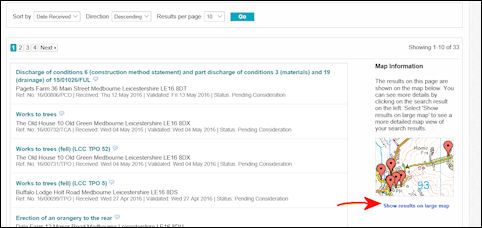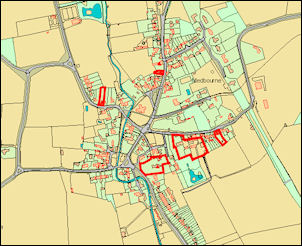 Comments and Objections
Having identified a specific application on the Harborough site, it is possible to submit comments and objections online. If you wish to comment on a proposal you should send comments to both the Parish and District/Borough Council within the deadline period. You can voice your concerns to the Council on any planning matter. For the Parish Clerk's contact details see Contact Us.
The Parish Council receives details of applications and is consulted on them. The Council can submit its views (taking into account parishioners' views), but the District/Borough Council will primarily look to the Parish to provide local insight and may choose not to follow the Parish's view.
Submitting a Planning Application
The national Planning Portal is your one-stop shop for planning and building services online.