Village Hall Rooms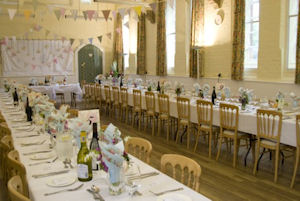 To understand the overall layout see plan below.
There is Wi-Fi with high speed broadband internet access.
The hall consists of the main hall, a fully equipped kitchen and a room suitable for small meetings. Both rooms benefit from gas fired central heating.
The main hall is suitable for larger meetings, parties, wedding receptions etc. It measures 11.4 m x 6.1 m and will accommodate about 80 people seated; 120 standing. For large functions, hiring tables  and chairs might be an option as illustrated in the photo.
The main hall is entered via the main entrance and then through the small hall.  The small hall measures  6.1 m x 6.1 m. This has a galley kitchen attached with a large serving hatch into the room.
In addition to suitable male and female toilets, there are facilities for those with disabilities and the rooms are all on one level.
Click on the plan above to see it full size in a new tab.