Booking Forms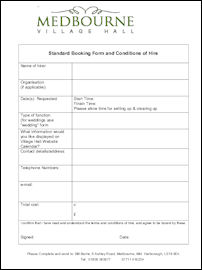 Before making a booking check that the date and time you want are available in the Village Hall Calendar. You can book online by telephone or using a paper form. If you are booking a wedding you must fill in the paper form provided below and contact the Bookings Manager to discuss your requirements.
To book the Village Hall online use the Form below. For telephone bookings see the Contact Us page. Before booking please read the Terms of Hire as you will need to affirm your agreement to them.
Paper Bookings
Complete one of the booking forms below and return it to the address on the form.
Online Booking
For bookings other than weddings fill in the form below and press the "Submit" button. Submission of this form emails the Bookings Manager with a copy to the sender. It does not confirm a booking. The booking will be confirmed by a return email from the Bookings Manager confirming the booking plus the appearance of the booking in the Calendar.