Frequently Asked Questions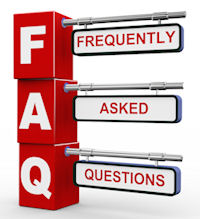 Can we have a bouncy castle?
Yes, but the Hall's insurance does not cover a bouncy castle. Check that the company you hire from has appropriate insurance. We recommend you do not borrow one as accidents can happen and you will not be covered on our insurance. At the time of booking please make sure we know there is to be a bouncy castle. It is your responsibility to ensure the safety of children using it at all times and it must never be left unsupervised.

If a bouncy castle is used for any event (outside only) an extra charge of £5 is charged to cover the use of electricity.
Can we hold a wedding reception at the hall, how much would it cost?
Weddings are charged from £250, and usually involve weekend hire of the hall and grounds. You can use all the grounds and erect a marquee which must be taken down the day after your event. Please see the details and conditions on Booking Forms page.
Who runs Medbourne Village Hall?
Medbourne Village Hall is a registered charity (514756) run by a small group of unpaid volunteers. See the Committee page.
What insurance does the Hall have?
The Hall has Public Liability Insurance. If you are a Commercial Hirer you must provide your own public liability insurance. All Hirers should affect all necessary insurance to cover their own liability in respect of their own, or third party equipment used or stored in the Hall.
Do you provide tea towels or dishcloths?
Tea towels and dish cloths are not provided by the Village Hall; please supply your own.
Do you cater for events?
The Hall has a kitchen for self-catering. Within the village we are very lucky to have the Village Shop, which can provide sandwiches, quiches, hams, etc. and the Nevill Arms which has a café, pub food and a restaurant. You are also welcome to use an outside caterer.
Can I bring my own electrical equipment?
Yes, but you must ensure that any electrical equipment provided by yourselves or a third party has been PAC tested.
What are the toilet facilities?
There are men's / women's / disability-friendly toilets in the entrance hall to the left as you come into the Hall.
What about access for people with disabilities?
Medbourne Village Hall has no steps within it, the corridor entrance, small room and main hall are all on the same level. From the road, there are two steps up to the paved area in front of the hall and a newly installed ramp for buggies and wheelchairs. People with disabilities can drive into the hall grounds via the entrance at the rear of the open grounds, which is a clearly marked entrance, via a five bar gate. Please let us know when you make your booking if you wish to use this entrance. Parking is not allowed in the grounds.
How many people will the hall hold?
Seated, about 80 people, or standing about 120.
How many tables and chairs do you have?
There are 7 large folding tables, 8 smaller folding ones, 15 large trestle tables, (6ft x 2'6") and 10 tables suitable for children's heights. There are about 80 chairs. These are a mixture of padded and non-padded.
Are crockery/utensils provided?
There are plates / utensils / cups and saucers for about 80. These are mostly blue or green and you are welcome to use them or provide your own.
Are there any restrictions?
During the period of hire:
The Hirer is responsible in full for the supervision of the premises, the fabric and contents of the Hall, their protection from damage no matter how slight, or change of any sort, and the behaviour of all persons using the area hired.

The Hirer shall not:

use the premises for any purpose other than that described in the hiring agreement; or sub–hire the premises; or
use or allow the premises to be used for any unlawful purpose or in any unlawful way; or
do anything or bring on to the premises or surroundings anything that may damage or endanger the premises; or
contravene the requirements of any insurance policy relating to the premises; or
allow the consumption of alcoholic liquor therein without written agreement.

Noise & Music
As Medbourne is a quiet village and the Village Hall has fairly close neighbours we ask that music and noise are kept to a reasonable level and that music is turned down by 11:15pm and off by 11:45 pm. Organisers of weddings, and functions with music, are clearly informed verbally and on the booking form of these conditions.

Smoking
Medbourne Village Hall by law operates a No Smoking Policy.

Fireworks
There are a number of thatched properties in the village and we do not allow fireworks to be used anywhere on the property or grounds.

Alcohol
What happens with alcohol and running a bar at the hall?
There are three options;

You can supply the alcohol and give it to your guests for free.
You can ask guests to bring their own for their own consumption.
You can apply for a Temporary Events Licence to enable you to sell alcohol yourself or you can employ the services of a company who may apply on your behalf and run the bar for you.

The Hirer shall be responsible for obtaining all necessary licences and Temporary Events Notices (needed for the sale of alcoholic liquor) including those required for regulated activities involving children or vulnerable adults. The Hirer shall ensure compliance with such licences, and the regulations made by the Fire Authority, Local Authority, Police, Local Magistrates Court, or any other statutory authority.
I have hired the hall - when do I pick up the key?
Unless agreed otherwise, the caretaker will meet you at the hall to explain the use of the hall and equipment and hand over keys at the start of your hiring period.
I'm planning to run a new club - are there special arrangements?
Yes – we usually allow an initial reduced rate before booking a regular session.
I would like to hire the hall for a children's party - is it suitable?
Yes – many hirers want to use the hall because it's ideal for children. There is an Ofsted inspected pre-school playgroup that operates from the hall and it has safe, enclosed grounds for children to run around in. Please remember that the hirer is responsible for leaving the hall clean and tidy.
Can we have a barbecue at the hall?
Yes, if it's outside – and provided it's more than 3 metres away from the building or boundary trees.
What about cleaning up after my booking?
Please ensure that the hall is left in the same condition in which you found it. Please make sure that you replace any tables/chairs to where they are stored, that the kitchen has been left tidy and that you have turned off the cooker, and heating, if it has been used.

Please remove all rubbish from the hall and grounds and take it with you.
If you need further information please Contact Us.