Equipment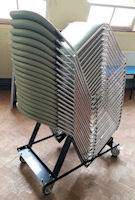 The Hall has high-speed broadband / wi-fi  internet access.
Available Furniture included with hire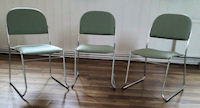 There are 80 contemporary lightweight vinyl covered tubular steel chairs available on stacking trolleys.
Also, 7 large folding tables (4' x 2'6"), 8 smaller folding tables (3' x 2'6"), and 10 tables suitable for children.
14  Trestle tables (6ft x 2'6") are available on request.
Kitchen Equipment – see Catering
Defibrillator
A  defibrillator serving the village is installed to the exterior of the building and is maintained by the village hall.
Overhead  Projector  - additional charges apply
There is a digital overhead projector available on request and a projector stand is available. Additional charges apply. There is a wall mounted screen on the wall in the main hall.
Display Stands - additional charges apply.
There are three 8 panel, double-sided display stands available for hire; these provide a total of 48 usable surfaces each 600mm wide and 900mm deep. Each stand has two header boards 600mm wide x 300mm high. Each main panel will typically take 4 x A4 sheets. Whilst these boards will take pins, Velcro is the preferred method for attaching display items.
This photo shows the exhibition stands, projector, projector stand and screen.