Plans for Hall Reconfiguration and Refurbishment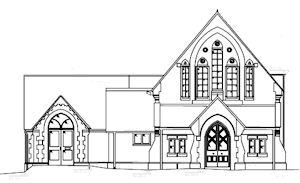 The next application to the Heritage Lottery Fund (HLF) will  focus on the "heritage" aspects of the building.  The plan now is to concentrate efforts on changes that can be made within the existing footprint.
The intention of the revised plans is to:
Provide more usable/ flexible rooms that can be let out individually or together, ensuring all rooms can be accessed independently.
Provide new toilets, store rooms and stairs leading to a new meeting room above the Small Hall.
Ensure that the external door leading into the kitchen becomes the main entrance again.
Add  an additional new doorway to the Main Hall from the Small Hall which would be located where there is currently an internal window between the Main Hall and the kitchen.
Divide the Small Hall off using sliding folding doors to create a corridor providing access to the rest of the building.
Ensure the flat-roofed toilet block (added in the 1960s?) is replaced with a pitched roof structure more in keeping with the rest of the building.
Ensure the whole building is refurbished, including re-roofing, with an insulated ceiling underneath the roof, removal of the false ceiling, installing new heating and lighting and refurbishment of the heritage windows.
Whilst detailed plans are still being discussed, the following documents give an idea of the main features of the building:
If you have any comments or suggestions please email us on medbournevillagehall@gmail.com.
Please note that at this time all the proposals are DRAFT.