Phase 1 Fully Funded
News release to the Village, 6th February 2021

Following the success of several recent grant applications, including from The Fore Raft Fund, The Green Hall Foundation and others, the Village Hall Committee is very pleased to announce that after many months of fundraising we are now able to start Phase I of the renovation of the Hall.
Phase 1 includes re-modelling the existing, exterior facing, kitchen door to provide a more attractive central entrance hall, to enable better circulation through the building.  This will facilitate the creation of a more useable and better-planned kitchen in the future.  In addition, the medical room will be updated including surfaces that are easily cleaned; remotely activated taps and lights will also be added, thus enhancing the overall versatility of the space. With a new external door into the corridor outside the medical room there will be easier disabled accesses into all parts of the building.  The dingy 1950's corridor will be transformed into a pleasant reception/waiting area, linked to more spaced waiting area in the Small Hall. Tall flexible storage cupboards for regular users will be fitted in the Main Hall, together with two new sinks with automatic taps, of different height for children and adults.
Of equal importance, preparatory work will be undertaken to enable the flat roof extension to be demolished and rebuilt in Phase 2.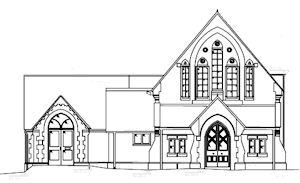 To fit in with the contractor's tight schedule and availability, it is hoped that work will start on site on 27 March for a duration of around 6 weeks.  The contractor is committed to causing as little disruption to Village life as possible. 
The Phase 1 costs are based on the quotation provided by Buildrite.  We have raised a total of £57,600 in addition to the £15,000 pledged from Village Hall reserves - £72,600 in total.  Preliminary costs in relation to the entire project, including a raft of professional fees such as architect, structural engineers, quantity surveyors, building control etc, have come to £20,600 leaving a balance of £52,000 which is sufficient to proceed. 
Considerable thought and work have been put into planning the development so that each phase can be completed independently of the next as funding allows.  Each phase will include work to facilitate the next.  It is hoped that where possible work can be carried out during school holidays to minimise disruption to our regular user groups such as Preschool and Scouts and keep the Hall open and available to other users, (once Government Covid restrictions are eased enough to allow other groups and individuals to hire the facilities).
This is an exciting time for the Village Hall and the Committee would like to sincerely thank everyone who has donated their time and their money to help us get to this point, as well as all the Charities who have supported us with Grants.

Further information about the plans and the phasing of developments can be found on the Extension Page.
Brian Godfrey (Chairman), Carolyn Frostwick (Treasurer)