Medbourne Business Establishments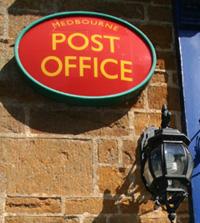 This page is the meeting place for businesses in and around Medbourne. Information is presented on two pages: this page (Business Establishments) and Traders, where the latter are typically self-employed people offering specialised trades, skills or services.
Businesses may have their own web site or a full-page description on this site; see the list below:
Groceries, delicatessen, newsagent, off-licence, dry cleaning, Post Office counter.
Inn and restaurant.


Grimsby Fish Delivery
Fresh fish direct from Grimsby available outside the Post Office every Wednesday 9.00 a.m till 10.00 a.m
#3 Market Stall, Market Harborough Market.
Telephone: (07730) 601644
Email: Grimsby Fish Delivery
Medbourne Grange
Bed and breakfast.
Camping and Glamping Site
Hallaton Road,
Medbourne,
LE16 8DR
Telephones: (01858) 565221 and (07736) 397620
Email: Caroline
Recording, videos, graphics, guitar tuition.


Whiteways - bungalow for rent
Two bedroomed bungalow for rent.
Newly fitted wet room, kitchen, very large dining / sitting room / sun room.
Wifi throughout, peaceful large garden with views over Welland Valley.
Available for weekly or monthly hire
Telephones: (07880) 775618 and (01858) 565577
Email: Nickie
Click here for photographs of the bungalow.

Not Listed Above?
It's very easy to add your business to this page. Just go to the Add My Business page and fill in the form provided. All publicity is good and free publicity is even better!