Medbourne Village Shop and Post Office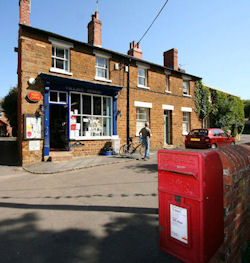 Medbourne is very fortunate that it retains its Village Shop and Post Office. Proprietor Kerry Flavell and her equally friendly staff maintain this hub of the village by providing a very wide range of goods and services. Regular travellers along the B664, visitors and residents of nearby villages all make use of this facility, in addition to the locals.
The shop is open every day except Bank Holidays. See Shop Facts below for the opening times, including those for the Post Office counter and post collection times.
There is a special emphasis on fresh foods with tea and coffee, hot and cold rolls and half-baguettes, soup, home-baked cakes and a deli counter. The latter features excellent ham, cheeses, sausage rolls and pasties, quiche, samosas and bhajis. Food bought on the premises can be consumed at picnic tables on the green opposite the shop.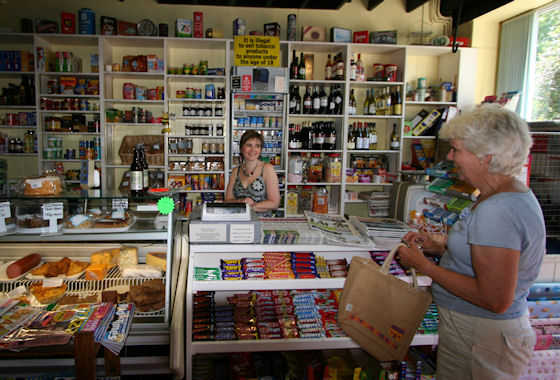 Kerry Flavell attendng to a customer
The fresh theme continues with daily fresh bread and milk, locally produced eggs, regular deliveries of fresh vegetables, bacon, sausages, butter etc. Fresh meat is available via Bates Butchers of Market Harborough; orders placed before noon on Wednesday are delivered on Thursday.
An excellent range of general groceries are stocked including local Medbourne honey.
Frozen foods are available which also feature delicious ready-meals prepared by Clarkes of Queniborough.
The shop also serves as a newsagent with daily papers, magazines and comics. Along with these are sweets, chocolates, cigarettes, ice cream, crisps etc. Also greeting cards and wrapping paper.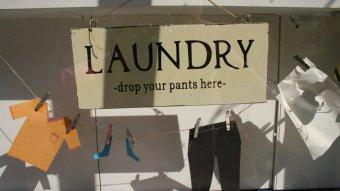 Humour found here!
Also an off-licence, there is a useful selection of beers, wines and spirits.
Laundry and dry cleaning can be left at the shop; the turnaround time is typically three days. There is also a board outside the shop for local notices.
Shop Facts
Address:
3 Spring Bank,
Medbourne,
Market Harborough,
Leics.,
LE16 8EB
Telephone: 01858 565928
Proprietor: Kerry Flavell.
Email: kerryflavell@yahoo.co.uk (Note that email will only be dealt with outside of the business hours shown below as the shop has no internet connection).
Opening times:
Monday to Friday: 08:00 – 17:30
Saturday: 08:00 – 14:00
Sunday: 08:00 – 13:00
Post Office counter opens 09:00 Monday to Saturday, closed on Sundays.
Postage collection time is 17:30 Monday to Friday and 10:30 on Saturdays.