Four Fires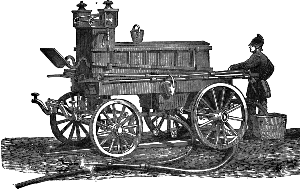 Content
This is the story of four fires that took place in Medbourne in a 7-year period in the mid 19th century. The last two were very serious and one of them was a case of arson! Click one of the links below, or read on for the full story.
1855 Farmyard Fire
A fire occurred at Medbourne Grange the property of a widow Mrs Hickman when three or four stacks in the farmyard were destroyed.
1856 Farmyard Fire
Some stacks at a building in Barn Close the property of Mr Thomas Hextall were involved
1857 Several Properties Destroyed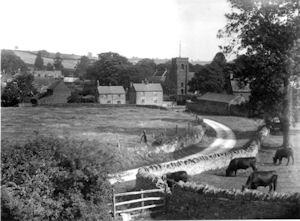 Hallaton Road in earlier days.
A serious fire occurred just before Christmas 1857 at the farmyard of Mr William Letts (now Manor Farmhouse in Hallaton Road). A south westerly gale blew sparks across the brook and set fire to Pateman's Bakehouse and destroyed Plowright's grocers shop. Three thatched cottages were also consumed, these stood on the ground in front of the present day village shop. A fire engine was brought to the scene but a mob cut the hoses.
Thomas Payne who worked for Mr Letts was suspected as he was the last person to be seen at the property prior to the fire breaking out. He was subsequently prosecuted, found guilty and sentenced to four years penal servitude, but released after two years. Apparently Mr Letts consulted a "Wise Woman" (Mesmerist) in Leicester who in a trance told him Thomas Payne was innocent. Twenty years later a man called Foster who had been a policeman in Medbourne confessed on his death bed that he had started the fire because he had held a grudge against Mr Letts.
1862 The Nevill Arms Burns
An unusual fire took place in 1862 when the Nevill Arms was destroyed. A conjuror came to the property and placed an anvil on his chest, inviting Ben Jelly a farmer and blacksmith to beat out horseshoes on the anvil. Sparks from the anvil or possibly candles used for lighting ignited furnishings and a serious fire resulted, destroying the building. The property was rebuilt by Captain George Nevill who, by all accounts, was somewhat of an eccentric, rather prone to firing a gun from the windows!
---
Contributed by Keith Sandars April 2013