Senior Citizens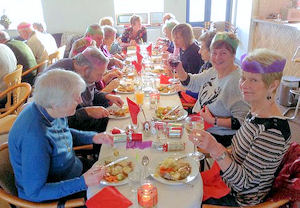 There are two community outlets for senior citizens in Medbourne: the Autumn Club and the monthly Senior Citizen's Lunches at the Sports Club.
Autumn Club
The Autumn Club has been in existence since 1955 for the benefit of the older generation of Medbourne and neighbouring villages. Meetings are held every third Wednesday afternoon and usually feature tea at a committee member's house or a pub lunch. The club has always had a reputation for the welcome it gives to new members and for its friendliness. The committee also provides transport to enable those without cars to attend.
For more information about Autumn Club contact Penny Polito by email, or telephone 01858 565889.
Senior Citizens' Lunches
These lunches are held at the Sports Club on the last Thursday of every month; see the phoo above. For details see the monthly Diary on this web site.
The cost is £5 per person to include a lunch a sweet and tea or coffee.
Anyone who wants to join the Lunch Club (no joining fee) can contact Mike Rickman (565377) with their details and to book a place.
Participants should arrive at the Sports Club for 11.30 with the lunch at 12.30. There are no tickets but please book a place no later than the previous Friday so the Sports Club knows how many to cater for.