Public Transport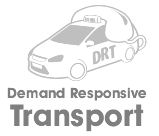 This page covers the demand responsive transport services operating from Medbourne.
The Rural Rider bus services from Medbourne ceased from Sunday 3rd May 2015.
Leicestershire County Council has replaced these services with "On Demand" services, i.e. you need to phone ahead of time to book the service. Service DRT 303 runs from Medbourne to Leicester on Thursdays and service DRT 304 runs from Medbourne to Market Harborough on Tuesdays and Fridays, see below:
DRT 304 - Services to Market Harborough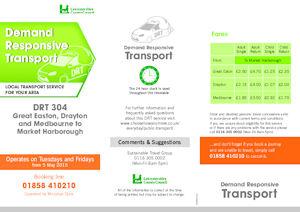 This service is provided by Murphy's Taxis:
Tuesday and Friday leaving Medbourne at 09:40 (arriving 09:55) and returning from Market Harborough at 12:00 noon.
Telephone 01858 410210 to book this service. For full information on this service download the leaflet below:
DRT 303 - Service to Leicester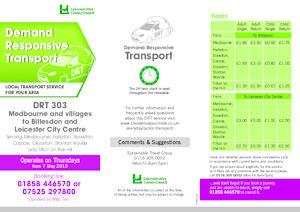 This service is provided by M & E Taxis:
Thursday leaving Medbourne at 09:30 (arriving 10:20) and returning from Leicester at 14:00.
Telephone 01858 446570 to book this service. For full information on this service download the leaflet below: