The Hollow Nature Area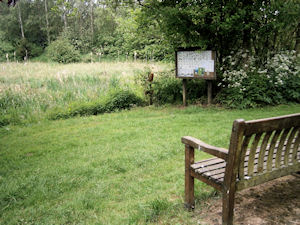 The Hollow wild life area is set aside in the corner of the Hallaton Road sports field by the brook on land owned by the Parish Council and it is there for everyone to enjoy. There are two ponds, one very deep and the other designed to dry out in summer, surrounded by native trees, shrubs and flowers. Access is from a grass path which runs through the area and there are also seats, a notice board, which is updated regularly and a bird feeding station. See pictures below.
The whole area is maintained by Bryan Smith, "The Keeper of the Hollow", with the help of volunteers, whilst the bird feeding volunteers are co-ordinated by Ann Price. An annual fund raising event takes place and this pays for bird seed and maintenance materials costs. The funds are held by the Parish Council.
The Hollow, whilst it can be enjoyed by everyone, is primarily there for the benefit of wildlife and this can only be achieved if we all respect this by not disturbing the area, not entering the water and by sticking to the footpath and by keeping dogs on a short lead.
Volunteers are always needed to support this wild life area, whether it's helping with the  fund raising, using a pruning saw or feeding the birds, there's usually something to do.
Contact, Bryan for maintenance work (01858 565720) or Ann for bird feeders (01858 565371).