Nevill Holt Opera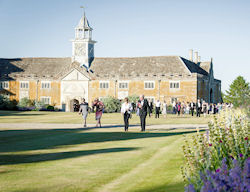 Web site: www.nevillholtopera.co.uk
Email: opera@nevillholt.co.uk
Box Office: 0115 846 7777 or you can book online via www.lakesidearts.org.uk

NHO's festivals sell out in record time. Audiences are strongly advised to book early to avoid disappointment at the box office.
Overview
Nevill Holt Opera is a classic English Country house opera festival with a colourful twist; NHO is based in the beautiful Leicestershire countryside, near the village of Medbourne.
Attracting sell-out crowds to its popular summer festival, NHO attracts a broad mix of audience from across the UK, including global businesses, London opera audiences and committed local supporters, as well as those trying opera for the first time.
The opera's home is intimate and stunning 17th Century Stable Block Theatre at Nevill Holt (see photo), which enjoys panoramic views over three counties, is described by the Telegraph as 'beguiling…graced by beautiful gardens and a bucolic landscape.'
Nevill Holt is also home to an outstanding collection of modern and contemporary British sculpture. Opera Festival audiences can spend the afternoon in stunning gardens, enjoying this otherwise private collection. Seminal works of sculpture include pieces by artists Allen Jones, Antony Gormley, Marc Quinn, Nic Fiddian Green and Sean Henry, among others.
Trust in Young Talent
Described by The Times as a festival that 'trusts in young talent' NHO is unique in its commitment to young talent emerging from the UK Opera schools. NHO focuses on casting young singers, offering them invaluable early professional experience, and a stepping stone to the wider profession. NHO alumni can now be seen on the stages of English National Opera, Glyndebourne and the Royal Opera House.
The Stable Block Theatre, seating only 350 guests, is an intimate and exciting atmosphere in which to hear future opera stars up close.
The Times said 'There's a goldmine of promise here.'
Education and Community Programme
NHO operates an Education & Community programme, created by music and arts education specialists, and operated in partnership with the David Ross Education Trust.
Since 2014, NHO's children's chorus has been drawn from its partner school, the Malcolm Arnold Academy, Northampton - a school in which no choirs previously existed. For many of these children, NHO is a stunning introduction to live classical music.
Since 2015, NHO has been expanding its Education and Community programme, with a number of popular musical events in the local area, including a Come & Sing Event for all levels of experience and ability, as well as a series of schools opera workshops across the East Midlands.