The War Memorial
Re-furbished War Memorial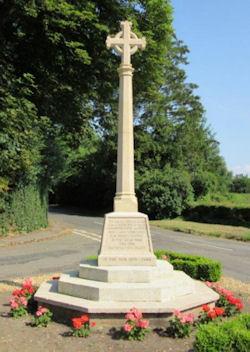 The War Memorial after being
cleaned and re-lettered in 2014.
On August 3rd 2014 the village gathered to commemorate 100 years since Britain joined the Great War. Several months earlier we were fortunate to be awarded a Heritage Lottery Fund grant of £4,000 to refurbish the Memorial and undertake three additional Heritage Projects; the grant was secured by Keith Sandars the village's War Memorial Warden.
The culmination of events was a service of re-dedication for the newly cleaned and re-lettered memorial; approximately 180 people attended the service. This was followed by refreshments at the Village Hall where an Exhibition was staged giving the history of Medbourne's 19 casualties in the Great War and 2 in World War II. We were pleased to welcome Prof. David Stocker from the Heritage Lottery Fund who attended the day's events.
The Exhibition was one of the three additional Heritage Projects and it also displayed information about the other two:
The School Project - a project to bring World War I to the children at Bringhurst School, which took place on June 30th, 2 days after the centenary of the Sarajevo assassinations that triggered the war.
The Web Project - a project to document the history of the casualties on this web site. In fact, the project also uncovered information about those from the village who served and came home. The result is two pages in the history section of this web site:
If you missed the exhibition you will find the information on these web pages. The exhibition itself has been archived so it can be re-hung in the future.
August 3rd 2014 - the day in pictures
Thanks are due to Sue Hunt who took the vast majority of the photos on this page.
Click on the photos below for a larger image and full caption.