The Parish Magazine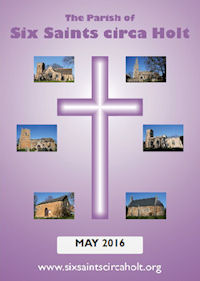 Click here to view this month's magazine online.
The Six Saints circa Holt parish magazine is published 10 times per year; December/January and July/August are combined issues.
The magazine is distributed to every household in the six villages: Medbourne, Great Easton, Drayton, Bringhurst, Blaston and Stockerston.
The magaine is also published online on the www.sixsaintscircaholt.org web site.
How to submit content
Any content needs to be emailed to: secretary@sixsaintscircaholt.org.
The publishing deadline is the 5th day of the month preceding. The secretary works two mornings per week, currently Wednesday and Thursday. The Parish Office is behind Great Easton Village Hall.
There is a charge for advertisements. However, those for charitable events, and other similar notices, are usually included free-of-charge.