JB Groundcare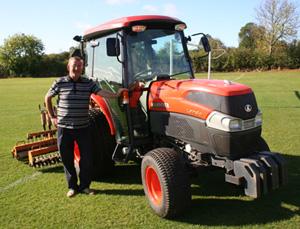 John Burrows on the Medbourne pitch
JB Groundcare offers award-winning services in the care and maintenance of sports pitches. Proprietor John Burrows has many years' experience as a groundsman, including 2 years training under Ed Mowe, Head Groundsman at Leicester City FC.
With football in particular, the modern game demands a level of perfection in the playing surface that was never seen in days gone by. For many sports pitches an investment in professional services can pay dividends for players whilst saving ongoing expense in the longer term.
Services Offered
JB Groundcare can attend to all your pitch needs. However, many clubs have existing groundsmen, so JB Groundcare specialises in consulting and close-season renovation. The full range of services available fall under the following headings:
Consulting on all aspects of pitch care and maintenance.
Re-seeding.
Weed control.
Cutting.
Marking out.
Deployment of specialist equipment.
Supply of materials, e.g. white line paint.
Care and maintenance.
The services available can also benefit domestic lawncare, especially for larger estates. If you have a problem with your lawn don't hesitate to make an enquiry, finding a solution will cost less than you would expect.
To discuss your specific needs see Contact Information below.
Equipment
There is a wide range of pitch maintenance equipment that can be deployed to meet specific needs. This includes:
A Kubota 5740 tractor (pictured above)
Three Sisis Quadraplay 4-in-1 pitch groomers; these will spike, scarify, roll and brush.
A Sisis Technicore aerator, with a choice of solid or hollow tines.
A range of mowers:

Toro Greenmaster cylinder mower
Dennis Premier 36" cylinder
Allett 24" cylinder
Honda 536 rotary
Kubota 50" rotary

Hardy 300 litre boom sprayer
Littaman sweeper
Fertiliser spreader
Seed spreader
Three pitch markers, 2 spray and 1 transfer wheel.
References
John Burrows maintains the Medbourne football pitch for which he has received multiple awards.
John has recently worked for the following:
Market Harborough Rugby Club - consulting and renovation.
Borough Alliance Football Club - consulting and renovation.
Harborough Town Football Club - consulting, renovation and pitch marking.
Awards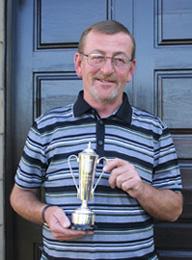 For his work on the Medbourne football pitch John was awarded "Groundsman of the Year 2010/11" for Leicestershire and Rutland.
Following on from this he was awarded 3rd place nationally by the F.A. for a Level 7 pitch, at Wembley in October 2011; see photo. (Level 1 = Premier League ground)
John holds several other awards:
Unsung Hero of the Year - Harborough Mail 2010
Valued Volunteer - Rugby Football Union, 2011
Football Workforce Certificate - F.A. Football Development Programme 2008/9
Groundsman of the Year - Northants Combination Football League, 2008/9.
Contact Information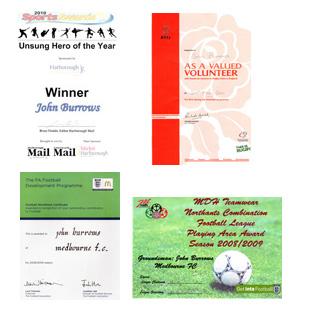 Business Address
John Burrows
Medgate House
Main Street
Medbourne
Market Harborough
Leics.
LE16 8DT
Telephone Numbers
07802 626906
01858 565728
Email Address
Click the link below to email John Burrows.