Medbourne Diary
June 2019














| Sunday | Monday | Tuesday | Wednesday | Thursday | Friday | Saturday |
| --- | --- | --- | --- | --- | --- | --- |
| 26 | 27 | 28 | 29 | 30 | 31 | 1 |
| 2 | 3 | 4 | 5 | 6 | 7 | 8 |
| 9 | 10 | 11 | 12 | 13 | 14 | 15 |
| 16 | 17 | 18 | 19 | 20 | 21 | 22 |
| 23 | 24 | 25 | 26 | 27 | 28 | 29 |
| 30 | 1 | 2 | 3 | 4 | 5 | 6 |
Summer BBQ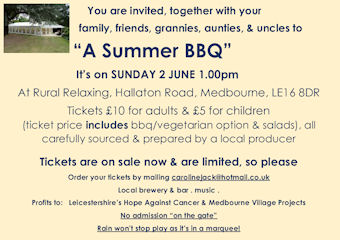 You are invited, together with your
  family, friends, grannies, aunties, & uncles to
"A Summer BBQ"
At Rural Relaxing, Hallaton Road, Medbourne, LE16 8DR
Tickets £10 for adults & £5 for children
(ticket price includes bbq/vegetarian option & salads), all carefully sourced & prepared by a local producer
Tickets are on sale now & are limited, so please order your tickets by mailing carolinejack@hotmail.co.uk
Local brewery & bar. Music.
Profits to: Leicestershire's Hope Against Cancer & Medbourne Village Projects
No admission "on the gate"
Rain won't stop play as it's in a marquee!
Click on the poster to see it full size.
---
Parish Council Meeting
To be held in the Village Hall.
All welcome to attend.
---
W.I. Meeting
Tales of a Wimbledon Umpire - Alan Grey
Hostesses: Marjorie Dore & Meriel Godfrey
Raffle: Ann Coon
This will be an open meeting.
---
Village Hall Committee Meeting
To be held at the Village Hall.
All welcome to attend.
June 2019 Agenda
April 2019 Minutes
---
Senior Citizens' Lunch
To be held at the Sports Club.
This is for Senior Citizens. The cost is £5 per person to include a lunch a sweet and tea or coffee.
Anyone who wants to join the Lunch Club (no joining fee) can contact Mike Rickman (565377) with their details and to book a place.
Participants should arrive at the Sports Club for 11.30 with the lunch at 12.30. There are no tickets but please book a place no later than the previous Friday so the Sports Club knows how many to cater for.
---